_____________________________________________________________________________________

All images copyright Distinctive Dummies 2010 - 2012
_____________________________________________________________________________________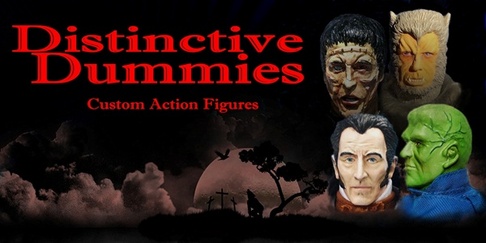 The
Roy Ashton
Collection



He
Roy Ashton was one of the greatest make up artists to have his work presented on the big screen, working for great Bristish institutions such as Hammer and Amicus. Although well revered for his work on Hammer Films in the 50's and 60's Roy only worked freelance and was never a direct employee of Hammer or Amicus. Thus Roy retained ownership of his designs and they have since been registered with the Design and Artists Copywright Society.


AND
The Roy Ashton Collection #1
The Phantom of The Opera 1/6 Scale Collectors Figure
In 1962 Roy Ashton was commisioned by Hammer Films to work on Phantom Of The Opera. Although his initial designs were not used, Roy researched real medical photographs to turn Herbert Lom into the acid scarred composer out for revenge.
Item Specifics:


Approx 12" tall
Custom pro print box
Custom hand made clothing
Likeness sculpted by Steve Thompson
Removable Mask
Authorized by the Roy Ashton Estate



Click for larger image



'Officially Licensed by the Roy Ashton Estate
© Roy Ashton'
Price $99.99 Inclusive of Worldwide Shipping
The Roy Ashton Collection #2
Arthur Grymsdyke 1/6 Scale Collectors Figure

In 1972 Roy Ashton was commisioned to work on Amicus' anothology film 'Tales From The Crypt'. For the segment entitled 'Poetic Justice', Roy turned Peter Cushing from a kind hearted pensioner, Arthur Grimsdyke, into an undead Zombie who rises from the grave to wreak his ghostly revenge on the person who wronged him.

Item Specifics
Approx 12" tall
Custom Pro Print Box
Custom Hand Made Clothing
Likeness by Steve Thompson
Torn out heart (not shown)
Authorized by the Roy Ashton Estate



Click for larger image




In
In
'Officially Licensed by the Roy Ashton Estate © Roy Ashton'

Price $104.99 Inclusive of Worldwide Shipping
The Roy Ashton Collection #3
The Reptile 1/6 Scale Collectors Figure



In 1966 Hammer Films wanted to create a new look in horror films. They turned to master make up artist Roy Ashton to design The Reptile, a part woman, part venemous snake creature, who would terrify the Cornish countryside. Ashton meticulously studied the anatomy of snakes and even made molds from a Boa Constrictor to achieve realism on the screen.The result turned the lovely Jaqueline Pearce into The Reptile, one of the most iconic of movie monsters.





Item Specifics


Approx 11.5 inches tall
Custom Pro Print Box
Custom Hand Made Clothing
Likeness by Steve Thompson
Authorized by The Roy Ashton Estate

Click for Larger Image


'Officially Licensed by the Roy Ashton Estate © Roy Ashton'
Price $104.99 Inclusive of Worldwide Shipping